rec
---
This is how it works
Sign up
Create your own account at hartz4widerspruch on our website or with the app. Just register and start with your free notification check.
Create the first file
In your personal account you can see at a glance which steps will take place next in your new file. You can easily upload all necessary documents online.
Notification corrected & justice achieved
We will keep you up to date at all times on your assessment by our partner attorneys. As soon as we have received your corrected notification, we inform you about how much money you are entitled to from now on.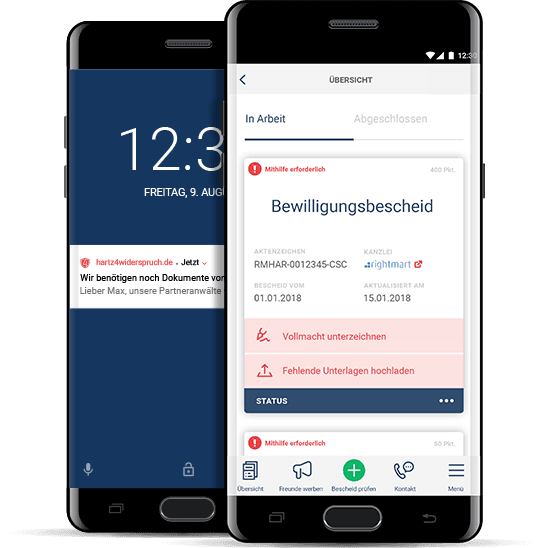 The app for your notification.
Register & create a profile
With the app you always have your profile in your pocket. Upload a notification, submit documents or track the status of your notification check – all this is possible with your smartphone. From home and on the go.
THE #1 FOR HARTZ 4 PROCEDURES IN GERMANY.
Our services
Notification check by our partner lawyers
Almost 50% of all Hartz 4 notifications are incorrect. The consequences: Too few payments and disadvantages for recipients. Our partner lawyers check whether the Jobcenter has calculated your services correctly. If not, they will appeal for you & thus ensure justice. As a Hartz 4 recipient all the services are free of charge for you.
Make an application
Application for additional needs, assumption of relocation costs, exemption from GEZ fees… In many cases, as a recipient of social benefits, you can secure subsidies from the state. Here you will find all the necessary forms at a glance. You can fill it out digitally and have it sent to you by email as a completed application. Or you save the annoying communication with the Job Center and we fax your application directly to the Jobcenter. Of course this service is free of charge for you.
Hartz 4 calculator
How much Hartz 4 are you really entitled to? With the Hartz 4 calculator you can calculate your individual claims quickly and easily. Calculating the monthly Hartz 4 benefits is a complicated matter. Different factors such as your standard rate, accommodation costs and additional requirements play a role in the final determination of the payments. The Hartz 4 calculator takes these factors into account and delivers the right result after a few clicks.
The experts at hartz4widerspruch.de
Why is hartz4widerspruch.de free?
The most common Jobcenter errors
You don't get any extra demand for warm water.
Too little rent is paid.
An incorrect income is calculated.
Error rate vs success rate
50% of all Hartz 4 decisions are wrong.
Most sanctions are illegal.
Success rate hartz4widerspruch: over 50 %.
This is the new hartz4widerspruch.de-portal
hartz4wiederspruch is the direct way to your right. Our partner lawyers represent you against the Jobcenter free of charge. Whether you are examining your Hartz 4 decision, objecting to errors by the Jobcenter or applying for new benefits – they are always by your side. Through our website you will find the direct way into your file and to your right.
learn more
The bonus system
Have we checked your decision, made an application for you or you have recommended us? We score points for everything, because long-term relationships are important to us. Save your personal thank you with our bonus system. Loyalty should be rewarded!

learn more

Mobile-Detection end –>